If Grand Canyon and Bryce Canyon have all the roads and buildings at the top, allowing people to view them from their heights, in Zion people had cut the road at the bottom, through the mountains, following the curves of the valley along the rivers. So, in order to observe the canyons at Zion one needs to look up. One needs to walk through the bowels of the white whale that Zion is and search for its mouth.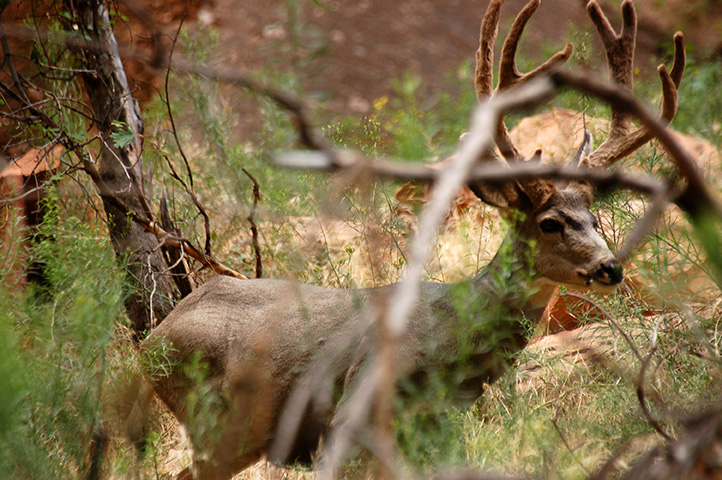 Because of that perspective, the mountains look bigger and massive, and majestic. The canyons are large. There are different types of rock formations in layers upon layers, a bit like in Grand Canyon, yet completely different. Because its story is different. Once upon a time, hundreds of millions of years ago, Zion was the biggest sand desert in the world. Bigger than Sahara. Then the sea came and stayed for a long time. When eventually it retreated, the sea left behind a huge mountain range of solidified dunes. So, when you look up those thousands of meters of what once was sand dunes, it really looks impressive.
The first evening we crossed a corner of the Zion Park and entered Springdale town for the night. We slept in a wooden lodge, worked, sculpted and furnished by Navajo artists. We had a romantic (in a rustic way) room with a wonderful view. We could see from our balcony some of the Zion's peaks, rising green and red above the desert.
The lodge had a wonderful natural history exhibition and a native arts and crafts exhibition. And the best steakhouse in the area. We tried all three of them and loved them each for its own specific excellence. In the next picture, you can see a little something Vali bought me from the Native exhibition. It is a tomahawk created by LaNeAyo, an American Indian artist of the Creek tribe and it's called RED TAILED HAWK. It's made after an ancient model of his tribe's chiefs. All with native materials, from the bison jaw to the red-tailed hawks' feathers.
We spent the next day entirely in Zion. There are lots of trails, from easy ones to very difficult ones. We walked two trails and a half. Zion is beautiful and diverse. We hiked along a river, through a swamp created by that river, and because of so much water we've seen a lot of vegetation not usually met in the desert. We've also seen a lot of hanging gardens—patches of flowers and vegetation grown in the cracks of the wall of rocks, forming small gardens in an otherwise dry place.
We've met elks, deer, marmots and those special squirrels that can be found only on the Colorado Plateau. The ones with big ears ending in tuffs of fur.
The second and the third trails were a bit more difficult as they required some climbing. The second one was absolutely spectacular. We climbed a few hundred of meters through what was a desert on the mountain. Yeah, I know that those mountains are in the desert and are part of it, but on this trail one climbs on a red rock and sand path, through cacti and desert shrubs. The feeling of being at a certain height, as we were climbing along the precipice edge, and yet walking through a desert is extraordinary. We reached the three Emerald Pools with their tall falls. And we saw for the first time, right in front of us, several hummingbirds, like little jewels spinning too fast for us to discern details.
Zion wasn't as special as Bryce Canyon, but close enough.
The next morning we left for the last leg of our trip. We descended from the Colorado Plateau in Nevada desert, aimed for Las Vegas. Which seemed from a different story after all the natural wonders we've seen during that week. That's why I won't bother you now with details of our stay in Las Vegas. Not because what happens in Vegas stays in Vegas, but because that information is on a "need to know" basis. And you, my readers, don't have the necessary clearance for that kind of information.